Berlin International Youth Theatre (BIYT) has been offering expert-led weekly drama classes and producing original, high-quality productions for over a decade. Made up of a magical mixture of children and teenagers from different countries, cultures and schools, BIYT offers participants the opportunity to learn theater skills and perform onstage. At the same time, the youth theater provides a platform for social exchange, friendship, creative expression and communication in English. Led by experienced theater practitioners Priscilla Bergey and Grace Holme, BIYT produces exciting and ambitious theater that appeals to young and old alike.
"Growing up as a shy school girl in Berlin, joining BIYT helped shape the woman I am today. I found a safe and trusting environment in which I could come out of my shell and be free to play any role without fear."
~ Rebecca Fixemer – Acting Student of the Year Award 2017 / Institute of the Arts Barcelona
The new Fall term starts august 28, 2021

We are looking forward to meeting you in person then and will be accepting new students for all of our classes. Free Taster sessions are being offered on August 28 and September 4. If you are interested in joining any of the classes or would like more information, please contact us at bergey@etberlin.de
BIYT Ignite (ages 8 – 10)
Saturdays 10:30 am – 12:00 pm | August 28 – November 20, 2021
These classes are designed especially for children aged 8 to 10, to fire up the imagination and spark a love of theater and performance. The focus is on having fun, gaining confidence, learning skills and making friends along the way. We will play theater games, sing, move, dance, practice characterization and work together to bring stories to life.
The BIYT Lab (ages 11 – 13)
Saturdays 10:00 am – 11:30 am | August 28 – November 20, 2021
The focus of these classes is discovering the magic of theater. The process involves stretching and strengthening the basic tools of acting that everyone already has – the imagination, body and voice. The first part of the class consists of fun, relaxing theater games to free the imagination, make us feel comfortable within the group and inspire self-confidence. The second part focuses on scene building exercises and improvisations which work towards the creation of original text.
The BIYT Ensemble (ages 14 – 20)
Saturdays 12:00 pm – 2:00 pm | August 28 – November 20, 2021
After the long stretch of social distancing, we will start exploring how to move and speak as an ensemble again. For this term, the ensemble will take on a new shape, with new members. Alongside improvisations and creating choreographies, we will be working on the actors' toolbox and various training techniques. The second part of class focuses on scene building exercises and improvisations that support the creation of a play.
To register and for more information please contact Priscilla Bergey at bergey@etberlin.de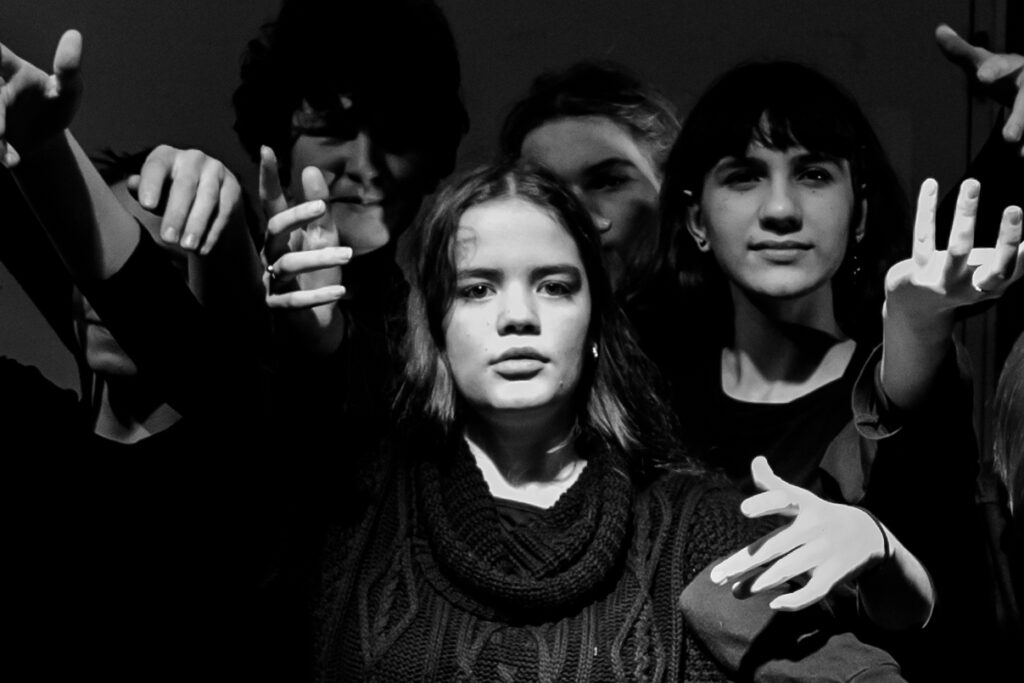 Past Productions:
•  2010  BIYT's first full-length theater production, Tale of the Rebel Waves
•  2011  The second show was Blood of the Butterfly, a science fiction fantasy where three separate civilizations become entangled in a web of greed, presented in June 2011 and again in December 2011.
•  2012  The third production was Till Someone Sneezes, based on The Skin of Our Teeth by Thornton Wilder. Check it out on YouTube.
•  2013 came MODELMONSTERMODEL – The Curse of Narcissus , a fashion-horror thriller with incredible costumes.
•  2014  brought a true classic: Shakespeare's Macbeth – a huge success!!
•  2015 came Into the Haystack, a dramatic investigation of surveillance in a suspiciously normal yet surreal society where the citizens have given up all rights to privacy
•  2016 we presented a gothic horror tale Sinner's Circle – the Salem Witchcriers, based on the infamous Salem Witch Trials
•  2017  Till Someone Sneezes Re-visited. Our "Directors Cut" with a new cast and plot twists
•  2018 we did Tribal Schmibal, a play based on true events, which turned into a parable about intolerance, bullying and forgiveness.
•  2019 came Feathers in the Fire in which the other side of Icarus is revealed. Based on the greek myth of Icarus, and using elements of physical theater.
•  2020 we did Dreams of a Seed. In this surreal audio play we follow the journey of five Seedlings as they search for a place to sprout. There's not many inhabitable places left and its a difficult journey, but the clouds take an interest in their plight and help things along.
On Facebook