Berlin International Youth Theatre
THE 2018 BIYT SHOW IS COMING UP in June/July!!
The eternal battle of inheritance between two brothers and the fate of two tribes. The classic tale. Since the beginning of time. June 29 + 30 + July 1. More HERE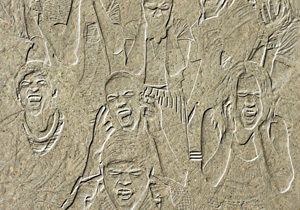 BIYT – An opportunity to develop acting skills, build self-esteem, create theater in English and make new friends. The first class is free for new students. This gives the student the opportunity to decide if they would like to continue. If they choose to continue after the taster sesson, a full commitment and payment for the term is expected .
The third term began on April 7
"For kids who want to venture into new and exciting worlds, build team skills and find lifelong friends, I say give this a try… Because these are the things that BIYT has given me."  /  Rebecca Fixemer, Winner of the Acting Student of the Year award 2017 at the Institute of the Arts, Barcelona
The BIYT Ensemble  (age 15-20)
Saturdays 12:00 pm – 3:00 pm
€ 200 per term
€ 162 for additional family members
There is a one time fee of 50€ from all ensemble students to help pay for production costs. During this term the ensemble class students will be choosing a new theme to explore. Alongside the regular scene building exercises and improvisations we will also work on constructing original text. We will work intensively together as an Ensemble in devising a completely new full-length production to be shown for 3 nights in the end of June.
We are honored to have joining us as special guest instructors this term prized directors Rachel Karafistan and Kuba Pierzchalski.
The BIYT Lab (age 11-14)
Saturdays 10:00 am -11:30 am
€ 170 per term
€ 132 for additional family members.
The focus of these classes is discovering the magic of theater. The process involves stretching and strengthening the basic tools of acting that everyone already has – the imagination, body and voice. The first part of the class consists of fun, relaxing theater games to free the imagination, make us feel comfortable within the group and inspire self-confidence. The second part focuses on scene building exercises and improvisations which work towards the creation of original text.
In 2018, all students will have the opportunity to audition for the annual BIYT play.
————> To register and for more information please contact Priscilla Bergey at bergey@etberlin.de
Past Productions:
•   2010  BIYT's first full-length theater production, Tale of the Rebel Waves
•   2011  The second show was Blood of the Butterfly, a science fiction fantasy where three separate civilizations become entangled in a web of greed, presented in June 2011 and again in December 2011.
•   2012  The third production Till Someone Sneezes, based on The Skin of Our Teeth by Thornton Wilder. Check it out on YouTube.
•   2013 came MODELMONSTERMODEL – The Curse of Narcissus , a fashion-horror thriller with incredible costumes.
•   2014  brought a true classic: Shakespeare's Macbeth – a huge success!!
•   2015  Into the Haystack, a dramatic investigation of surveillance in a suspiciously normal yet surreal society where the citizens have given up all rights to privacy
•   2016 A gothic horror tale, Sinner's Circle – the Salem Witchcriers, based on the infamous Salem Witch Trials
•   2017  Till Someone Sneezes Re-visited. Our "Directors Cut" with a new cast and plot twists
Rebecca Fixemer, 22 yrs. (Winner of the Acting Student of the Year award 2017 at the Institute of the Arts, Barcelona):
"Growing up as a shy school girl in Berlin, joining BIYT helped shape the woman I am today. I found a safe and trusting environment in which I could come out of my shell and be free to play any role without fear; ranging from April Zytztz, a girl who ventures to unknown planets to save her own, to Lady Macbeth, my all-time favourite Shakespearean lady.
I spent six years with this group, forming friendships that will last a lifetime. Our original core group grew into an exciting and supportive ensemble, and I feel truly blessed to have been a part of this journey.
 Today as I study to become an actress, and I cannot imagine having gotten to this point without the experiences I received from BIYT. For kids who want to venture into new and exciting worlds, build team skills and find lifelong friends, I say give this a try… Because these are the things that BIYT has given me."

On Facebook