Berlin International Youth Theatre (BIYT) is a magical mixture of young people from different countries, cultures, ages and schools. BITY provides a platform for social exchange between different cultures and promotes integration and communication. Our goal is to create high quality theater that appeals to young and old alike.
"Growing up as a shy school girl in Berlin, joining BIYT helped shape the woman I am today. I found a safe and trusting environment in which I could come out of my shell and be free to play any role without fear."                 Rebecca Fixemer – Acting Student of the Year Award 2017 / Institute of the Arts Barcelona
We are very proud to share our end-of-term radio play with visuals, Dreams of a Seed, with all of you! All created and performed by the Lab and Ensemble groups. You can access it by clicking HERE!
The clouds have forgotten to rain and have their heads in the sky, not paying attention. What a pity for the poor earth. It has become a wasteland, occupied with pieces of lonely plastic. Although they also have a story to tell, the ones we really want to hear about are the Seedlings, slowly unfurling after the blessed rain. But the ground is poisoned. A few seedlings manage to escape on a magic carpet ride to discover a place where they will have a chance to grow. A surreal tale of identity and survival.
We have been working on this play since 0ctober 2019 and all through the lockdown. (This year, by the way, marks the 10th anniversary of BIYT!) It was a long and challenging process. We hope you like it!
If you do, please feel free to give a donation in support of next year's BIYT project. Our working title so far is WE dont KNOW!
Thank you for your support!
English Theatre Berlin e.V.
Purpose: Donation for BIYT
Berliner Volksbank
IBAN: DE31 1009 0000 5708 6460 00
BIC: BEVODEBB
The new fall term for BIYT is from August 22, 2020 to November 21, 2020.
The next free Probestunden / Taster sessions will be held on August 22 and August 29.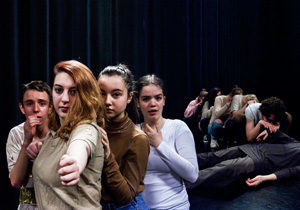 Space in our programs is extremely limited, so please sure to reserve a spot for your child or children right away.
This fall term holds many unknowns and at this point, we are simply planning to carry on as best as possible until the news changes. We will be continuing to practice social distancing in our classes and all games and exercises will be adapted to suit these restrictions. Communal surfaces are wiped down before each class and we have plenty of disinfectant, soap and hot water available. We are using large spacious rooms that are ventilated regularly, in conformity with the current official recommendations and regulations. If you have any concerns regarding these conditions, please feel free to contact Priscilla Bergey or Grace Holme.
Berlin International Youth Theatre is an opportunity to develop acting skills, build self-esteem, create theater in English and make new friends. The first class is free for new students. This gives the student the opportunity to decide if they would like to continue. If they choose to continue after the taster session, a full commitment and payment for the term is expected .
BIYT Ignite (ages 8 – 10)
These classes are designed especially for children ages 8 to 10 to fire up the imagination and spark a love of theater and performance. The focus is placed on having fun, gaining confidence, learning skills and making friends along the way. We will play theater games, sing, move, dance, practice characterization and work together to bring stories to life.
Saturdays 10:00 am – 11:30 am | August 22 – November 21 | € 192 fall term payment | € 152 for additional family members
The BIYT Lab (ages 11-13)
Saturdays 10:00 am -11:30 am | August 22 – November 21 | € 192 fall term payment | € 152 for additional family members
The focus of these classes is discovering the magic of theater. The process involves stretching and strengthening the basic tools of acting that everyone already has – the imagination, body and voice. The first part of the class consists of fun, relaxing theater games to free the imagination, make everyone feel comfortable within the group and inspire self-confidence. The second part focuses on scene building exercises and improvisations that work towards the creation of original text.
The BIYT Ensemble (age 14-20)
Saturdays 12:00 pm – 3:00 pm | August 22 – November 21 | € 230 fall term payment | € 190 additional family members
We will begin working on our new play by exploring the theme with music and movement and learning how to create as an ensemble. For this fall term, the Ensemble will take on a new shape, with new members and new goals. We will start by establishing characters and learning monologues. Alongside improvisations and creating choreographies, we will be working on the actors' toolbox and various training techniques.
————> To register and for more information please contact Priscilla Bergey at bergey@etberlin.de
Past Productions:
•   2010  BIYT's first full-length theater production, Tale of the Rebel Waves
•   2011  The second show was Blood of the Butterfly, a science fiction fantasy where three separate civilizations become entangled in a web of greed, presented in June 2011 and again in December 2011.
•   2012  The third production Till Someone Sneezes, based on The Skin of Our Teeth by Thornton Wilder. Check it out on YouTube.
•   2013 came MODELMONSTERMODEL – The Curse of Narcissus , a fashion-horror thriller with incredible costumes.
•   2014  brought a true classic: Shakespeare's Macbeth – a huge success!!
•   2015  Into the Haystack, a dramatic investigation of surveillance in a suspiciously normal yet surreal society where the citizens have given up all rights to privacy
•   2016 A gothic horror tale, Sinner's Circle – the Salem Witchcriers, based on the infamous Salem Witch Trials
•   2017  Till Someone Sneezes Re-visited. Our "Directors Cut" with a new cast and plot twists
•   2018  Tribal Schmibal, a play based on true events, which turned into a parable about intolerance, bullying and forgiveness.
•  2019 Feathers in the Fire in which the other side of Icarus is revealed. It was based on the Greek myth of Icarus and used elements of physical theater.
•  2020 Dreams of a Seed – a surreal audio play in which we follow the journey of five seedlings as they search for a place to sprout. There are not many inhabitable places left and the journey is difficult, but the clouds take an interest in their plight and help things along.

On Facebook