The Skin of Our Teeth was written by Thornton Wilder in 1942, a time of strife for many people in the world, and was meant to be a tribute to human endurance. The center of the original play is an archetypical family facing one apocalyptic catastrophe after another.
Using this play as an inspiration, BIYT has created a dark comedy full of Simpsons-like symbolism and churned out another one of their signature epics.
Although warned in the daily news of the approaching disasters, this conventional family is so caught up in their own personal conflicts that their chances of survival don't look very good. How will the family survive when everyone is so preoccupied with pizza? Does PlayStation really help in times of panic? Why do the actors keep on interrupting the show? And what in the world have they got against guinea pigs?
Come and find out!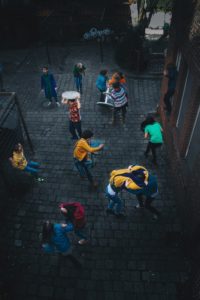 Originally written and performed by BIYT in 2012, we revisit this comedy favorite with an exciting new design, new plot twists and performed by an all-new cast of talented youth ages 11-17 from 10 different countries.
BIYT has been part of English Theatre Berlin | International Performing Arts Center since 2009 and is made up of young people from many different countries, cultures, religions and schools. The goal is to to create a social exchange between different cultures, promote integration and to make high quality theater using the global language of English.
Youth Theater
Thurs, June 22, 2017 | 7pm

Main Stage

with 2 additional performances until Jun 24th
Tickets 12 € (6 € students)
Directed by Priscilla Bergey | Lighting Design by Katri Kuusimäki | Stage Design by Isolde Wittke | Costume Design by Heike Braitmayer | Original Music by Natalia Lincoln | Assistant Direction by Ida Koski