The U.S. Embassy Literature Series
Ariel Levy reads from The Rules Do Not Apply (Gegen alle Regeln)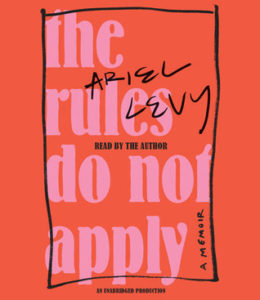 When Ariel Levy left for a reporting trip to Mongolia in 2012, she was pregnant, married, financially secure, and successful on her own terms. A month later, none of that was true. Levy picks you up and hurls you through the story of how she built an unconventional life and then watched it fall apart with astonishing speed. Like much of her generation, she was raised to resist traditional rules—about work, about love, and about womanhood.
In this "deeply human and deeply moving" (The New York Times Book Review) memoir, Levy chronicles the adventure and heartbreak of being, in her own words, "a woman who is free to do whatever she chooses." Her story of resilience becomes an unforgettable portrait of the shifting forces in our culture, of what has changed—and of what is eternal.
Ariel Levy joined The New Yorker as a staff writer in 2008 and received the National Magazine Award for Essays and Criticism in 2014 for her piece "Thanksgiving in Mongolia." She is the author of the book Female Chauvinist Pigs and was a contributing editor at the magazine New York for twelve years.
pic: David Klagsbrun