Staged Reading and Panel Discussion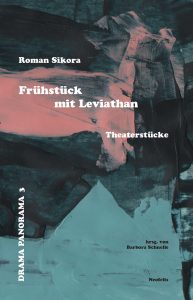 Roman Sikora is an explicitly political writer who analyses the power structures of a society dominated by market economics in his work in grotesque form. Translator Barbora Schnelle has been working with Roman Sikora for many years. This has now culminated in the publication of the anthology Frühstück mit Leviathan (Berlin: Neofelis 2021).
The playwright Roman Sikora and his translator Barbora Schnelle will present the new book Frühstück mit Leviathan and discuss with publisher Matthias Naumann (who will moderate the discussion) the path Sikora's plays took onto German stages and the importance of translating and publishing contemporary international drama. Extracts from the plays Frühstück mit Leviathan, Drei Tage oder Abstieg und Aufstieg des Herrn B. and Auf dem Weg zum Sieg from the book Roman Sikora: Frühstück mit Leviathan will also be read in a staged reading.
In the play Frühstück mit Leviathan, the guests invited to breakfast with the richest businessman in the world don't have any scruples when it comes to getting richer themselves. The hero of his comedy Drei Tage oder Abstieg und Aufstieg des Herrn B. makes a career as a cunning banker. After an accident, he ends up on the street and, when he is robbed of every last cent, experiences the dark side of capitalism. The play Auf dem Weg zum Sieg leads us into the ranks of the k. u. k. army in the First World War and investigates the mentality of the war machine.
After completing his training, Roman Sikora worked as an electrician and mechanic at the steelworks in his hometown of Třinec, before he studied directing and dramaturgy at the Janáček Academy for Music and the Performaing Arts in Brno. Today he works as a freelance playwright and theater critic, translates from Polish (e.g. Małgorzata Sikorska-Miszczuk) and teaches playwriting at the faculty of theater at the the Academy of Musical Arts in Prague. Sikora's plays have been translated into many languages and performed internationally.
Barbora Schnelle works as a freelance translator, theater critic and culture manager. In 2009, with Antje Oegel, she founded the project Drama Panorama: Forum für Übersetzung und Theater. In 2014 she founded the festival of contemporary Czech theater Ein Stück: Tschechien in Berlin, which she has run and curated since then.
We are very pleased to partner with Drama Panorama to host this event. Please click HERE to read the complete event information on their website.
Panel Discussion
Mon, September 26, 2022 | 8pm

Main Stage
Free Admission
(Seating is limited, please reserve a seat via the ticket link)
Please note that this event will take place in German and will be interpreted into German.
Performed by Thea Rasche, Henning Bochert and Aleksandr Vajnstajn | Reading Directed by Eberhard Köhler
Followed by a panel discussion with playwright Roman Sikora and translator Barbora Schnelle. Moderated by Matthias Naumann. Interpreting: Ruben Höppner.