The U.S. Embassy Literature Series
Ariel Levy reads from The Rules Do Not Apply (Gegen alle Regeln)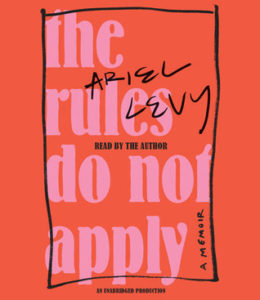 When Ariel Levy left for a reporting trip to Mongolia in 2012, she was pregnant, married, financially secure, and successful on her own terms. A month later, none of that was true. Levy picks you up and hurls you through the story of how she built an unconventional life and then watched it fall apart with astonishing speed. Like much of her generation, she was raised to resist traditional rules—about work, about love, and about womanhood.
In this "deeply human and deeply moving" (The New York Times Book Review) memoir, Levy chronicles the adventure and heartbreak of being, in her own words, "a woman who is free to do whatever she chooses." Her story of resilience becomes an unforgettable portrait of the shifting forces in our culture, of what has changed—and of what is eternal.
Ariel Levy joined The New Yorker as a staff writer in 2008 and received the National Magazine Award for Essays and Criticism in 2014 for her piece "Thanksgiving in Mongolia." She is the author of the book Female Chauvinist Pigs and was a contributing editor at the magazine New York for twelve years.
pic: David Klagsbrun
Reading
Tues, November 21, 2017 | 8pm

Main Stage
Tickets 8 € / school groups free if they register with IRCBerlin@state.gov
Links
Gegen alle Regeln
Als die amerikanische Journalistin Ariel Levy 2012 für eine Reportage in die Mongolei reiste, war sie schwanger, verheiratet, finanziell abgesichert und sehr erfolgreich. Einen Monat später traf nichts mehr davon zu. Ariel Levy nimmt uns mit auf den Trip durch ihr unkonventionelles Leben – und wie es mit rasender Geschwindigkeit auseinander fiel. Wie viele ihrer Generation war auch sie mit Vorbehalten gegen traditionelle Rollen erzogen worden.
In dieser "zutiefst menschlichen und zutiefst bewegenden" (New York Times) Autobiografie erzählt Levy vom Abenteuer und vom Zusammenbruch dessen, was es heißt – wie sie selber sagt – "eine Frau zu sein, die tun und lassen kann, was sie will."  Die Geschichte ihrer Widerstandsfähigkeit wird zum unvergesslichen Bild für die im Wandel befindlichen Kräfte unserer Gesellschaft – und für das, was standhaft bleibt.
"Levy hat ihre Lektion gelernt, aber sie rechnet mit niemanden ab (…). Ihr Buch ist eher ein großes Staunen darüber, wie sehr man sich verheddern kann in den vielen Möglichkeiten (…)."   Zeit Magazin
"Eine berührende und kluge Studie über nichts Geringeres als den Sinn des Lebens." Der Spiegel
"Ariel Levy hat ihre Trauer in Literatur verwandelt." David Sedaris