UNFORTUNATELY Due to the corona pandemic we have to postpone FOCUS CANADA 2022.
we hope to present all shows in July. previously Purchased tickets will still be valid.
A young queer person grapples with the messiness of being violated.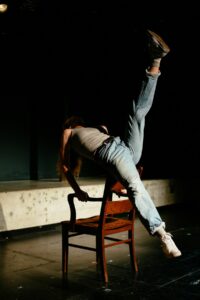 A gaze held too long, being followed down the street, a hand behind the neck: WAH WAH WAH peels back the layers of violation. What happens if I love it and hate it at the same time? Did anything even happen? Am I remembering things correctly?
A new and explosive performance work from Canada that uses extreme physicality, storytelling, and tantrums to dissect the feeling of experiencing sexual microagressions.
FOCUS
CANADA

2022

______________________________________________________

Celia Green  (they/them)
is a queer and trans non-binary performer, performance creator, and choreographer. Their growth and learning has been greatly shaped by trainings and opportunities at The Paprika Festival, the AMY Project, La Pocha Nostra and the P.A.R.T.S summerschool for contemporary dance. Recently, Celia was involved as a choreographer in adelheid dance's re:research program, and was a guest choreographer at Toronto Dance Theatre's for their Pilot Episodes project. Celia is a recipient of the Theatre Centre Emerging Artist Award, and is also a birthworker. They are currently developing SOWWY, a new ensemble performance work that explores men, gender and apology.
Bilal Baig (they/them)
is a queer, trans-feminine, Muslim playwright, director, performer and workshop facilitator. Bilal's first play, Acha Bacha, had its world premiere in 2018 and has been published by Playwrights Canada Press. Other written work in development includes Kainchee Lagaa, Kitne Saare Laloo Yahan Pey Hain, and I want that free mind! As a director/dramaturg, Bilal has worked on projects such as Wah Wah Wah (SummerWorks 2019), Eraser (RISER Project 2019), and The Trans Gemmes (Rhubarb Festival 2019-2020).
Photo by Tanja Terziani
Dance Performance
Tues, July 19 | 8pm

Main Stage
Created, performed and choreographed by Celia Green
Directed and dramaturged by Bilal Baig
Movement coaching by Amy Nostbakken
Vocal coaching by Fides Krucker
Sound Design by Maddie Bautista
Special Thanks to Amy Nostbakken, Stoneboat Farm Artist Retreat, Donna-Michelle St. Bernard, Laura Nanni, Sebastian Marziali, Leslie Green, Celeste Gibson, Marie Beath Badian and Iggy
FOCUS
CANADA

2022

Supported by the Canada Council for the Arts
Links