The great-grandfather of Oregon Book Award-winning playwright Andrea Stolowitz kept a journal for his descendants after escaping to New York City in 1939 as a German Jew.
Following the complicated lure of genealogy, Stolowitz goes back to Berlin to bring the story of her unknown ancestors out of the archives into the light. The record keeps as many secrets as it shares; how do people become verschollen, lost, like library books?
A limited number of free tickets have been reserved for secondary school student groups and their teachers. Please register as soon as possible by email at tickets@etberlin.de
This production is part of the 2023 Berlin Performing Arts Festival, May 31 to June 3, 2023 | paf.berlin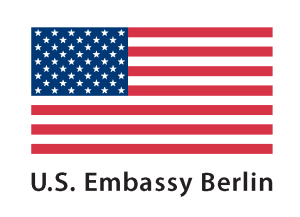 Complete funding for this production and the 2022 performances was generously provided by the U.S. Embassy in Berlin.
These additional performances in 2023 have been made possible thank to the Wiederaufnahmeförderung program of Fonds Darstellende Künste
Andrea Stolowitz is a German/American playwright currently living and working in Cork, Ireland. Her work embraces bold theatricality ranging from intimate portrayals of the human condition to the intersection of national history on private lives. Andrea is a member of New Dramatists class of 2026, an alumna of The Playwrights' Center, and a collaborating writer with the internationally lauded devised theater company Hand2Mouth Theatre. Andrea is the Lacroute Playwright-in-Residence at Artists Repertory Theater. Andrea has taught at Duke University, NYU, UC-San Diego, Willamette University and NUI-Galway.
Play
Wed, May 31, 2023 | 8pm

Main Stage

with 3 additional performances until Jun 3rd
A play by Andrea Stolowitz | Directed by Daniel Brunet
With Carrie Getman and John Julian
Set and Costume Design by Isabelle Kaiser | Lighting Design by Christian Maith | Video Design by Jake Witlen | | Assistant Video Design by Roman Hagenbrock | Assistant Direction and Stage Management by Rose Nolan | Technical Direction by Torsten Litschko | Seamstress: Franziska Müller | Regiehospitantinnen: Rebecca Benoit and Sophie Bon | Assistant Lighting and Set Design by Juliette Catelle | Board Operator: Jenny Eyer | Photography by Stefania Migliorati