Three people, three stories – and the abyss they have to face.
" It´s fucking, fucking, fucking, fucking, fucking, fucking brilliant." (Jacinta Nandi in her EXBERLINER blog)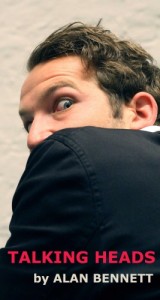 ENGLISH THEATRE BERLIN presents three pieces from Bennett´s brilliant and masterful Talking Heads, a series of poignant yet hilarious monologues peeling back the veneer of respectability to revel in – and of course laugh at – the private foibles of everyday life. These tales of loneliness and eccentricity range from hilariously funny to bitingly satirical to poignantly reflective, sometimes all in the same monologue.
Alan Bennett wrote the first six pieces in the mid 80s for BBC-TV, where they became a huge success and received several prestigious awards. More than ten years later, another six monologues followed, and this time Alan Bennett confronted his protagonists with severer problems like murder, or a husband who is into S/M. English Theatre Berlin presents three of the later pieces: The Outside Dog, Playing Sandwiches and Nights in the Gardens of Spain.
The Outside Dog, the story of a woman who finds out the godawful truth about her husband.
Playing Sandwiches, a purposefully uncomfortable and not unsympathetic sojourn inside the head of a very nice man with a wicked obsession.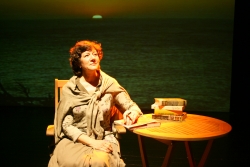 Nights in the Gardens of Spain, where Rosemary befriends a neighbor, only to realise that there are strange things going on over there.
ALAN BENNETT
has been a household name in British theatre ever since he starred and co-authored the satirical review Beyond the Fringe with Dudley Moore, Peter Cooke and Jonathan Miller in 1960 at the Edinburgh Festival. Later the same show played to packed houses in London's West End and in New York. Although Bennett started by writing and acting for the stage, he very soon turned his attention to writing plays for television.
Bennett is now regarded as one of the most important and inventive English dramatist of his generation. This is all the more surprising given the low-key themes and understated expression of the "ordinary people" who populate his dramatic world. Like the poetry of Philip Larkin, another Northerner whose writings he admires, his writing frequently focuses on the everyday and the mundane: sea-side holidays, lower-middle class pretensions, obsessions with class, cleanliness, propriety and sexual repression. Like Larkin, Bennett casts a loving as well as a critical eye on the objects of his irony revealing what underlies the apparently trivial language of his protagonists.

The characters he writes about are rooted in a particular social environment but the issues they raise are of more universal appeal: the essential isolation of human beings within the protective social roles they have adopted or had thrust upon them, the gap between self-awareness and the capacity to change, the crippling power of propriety. All of these themes are relayed through a tone that is simultaneously ironic and tender.
Photo Top: Dirk Holtkamp-Endemann
 all other photos: Anya Kinneavy
Fri, June 19, 2009 | 8pm

Main Stage
In repertoire from 2009 to 2013
directed by Günther Grosser
with Kim Eustice, Monica Solem, Jesse Inman
Set and Costumes: Tomas Fitzpatrick / Roland Ascheid
Lights: Katri Kuusimäki
Video: Dargelos Kersten
Sound: Torsten Litschko
drei Monologe aus Alan Bennetts Talking Heads-Serie
Alan Bennett schrieb die ersten sechs Monologe der Talking Heads-Reihe Mitte der 80er Jahre für das britische Fernsehen – bittere, entlarvende aber auch melancholische, von Mitgefühl geprägte Geschichten über Einsamkeit und die Tücken und Fallstricke des Alltags. Die Serie wurde zu einem Riesenerfolg und mit vielen Preisen ausgezeichnet, so dass Bennett Ende der 90er weitere sechs Episoden folgen ließ, die allerdings sehr viel mehr Schärfe hatten und ihre Personen mit schwerwiegenden Problemen wie Mord oder einem sado-masochistischen Ehemann konfrontierten. English Theatre Berlin präsentiert drei Monologe aus der späteren Serie: The Outside Dog, Playing Sandwiches und Nights in the Gardens of Spain.