by The Long Song (Berlin)
an American opera of modern lovers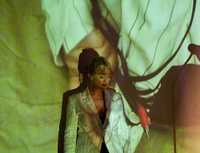 A modern parable of love in the 21st century told through two short American chamber operas: The Telephone by Gian Carlo Menotti and The Letter by Brian Hulse
One man, two women and too many phones – Chivalry may not have been killed by Man. In a world of iphones, bluetooth, Skype, & IMs, a sit down, face-to-face conversation seems to be a thing of the distant past. At least that's what Lucy apparently thinks in the comedic opera The Telephone. Written in 1947 as a social commentary on the encroachment of technology on modern life, Gian Carlo Menotti is again made pertinent in this contemporizedImageinterpretation. A modern parable about the pitfalls of telecommunication, the battle between man and technology is on. Will the couple ever have their Happily Ever After when the telephone is constantly engaged?
Whether irked or inspired by the short sms, the urgent email, the quick IM, are we cured of loneliness forever? Connected, collective, communal; one love, many loves or no love at all?
The second piece of the evening tells the story in the European premiere of Brian Hulse's contemporary opera The Letter (written in 2003, based on Edith Wharton's story The Dilettante). Behind the paints and veils of Victorian society, a common theme is the image of women as vulnerable, wilting flowers forever outwitted and overpowered by men. But lurking under the ruffled façades of yesteryear, the mind games between women and men seethed away, masked only in witty allusion. Thursdale´s disreputable affair with Mrs. Vervain may have seemed innocent amidst the backdrop of parlor society in Edith Wharton's time and when Thursdale proposes to another woman, Miss Gaynor, one may think that man would again trump the ladies in deceit. It is the women however, in this ménage, who rise victorious as they parry in this Suffrage-era tale of an early Women´s Liberation. In the end they extract justice of their own from a culture often too permissive of its men.Image
The artists of THE LONG SONG came together early in 2008 in dedication to American vocal repertoire, much of which remains largely unperformed in Europe. For missTcommunication they´ve chosen one standard and one unknown work of American short opera, both centered on the themes of desire and the need for real connection and intimacy which gets so often lost in our modern society.
Performance
Fri, May 22, 2009 | 8pm

Studio
with two additional performances until May 24, 2009
starring  Thorbjörn Björnsson, Donna Lee and Lauren Lee
directed by Katalina Mustatea
Musical direction: stefanpaul
with video installations by Mary Beth Volker
original idea: Lauren Lee, Donna Lee and stefanpaul
produced by The Long Song