THE U.S. EMBASSY LITERATURE SERIES:
Karin Slaughter reads from her novel Criminal (Bittere Wunden / Blanvalet Verlag 2014)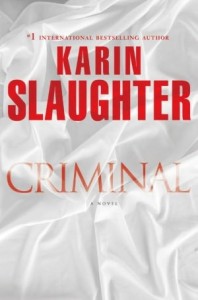 Will Trent is a brilliant agent with the Georgia Bureau of Investigation. Newly in love, he is beginning to put a difficult past behind him. Then a local college student goes missing, and Will is inexplicably kept off the case by his supervisor and mentor, deputy director Amanda Wagner. Will cannot fathom Amanda's motivation until the two of them literally collide in an abandoned orphanage they have both been drawn to for different reasons. Decades before, when his father was imprisoned for murder, this was Will's home. It appears that the case that launched Amanda's career forty years ago has suddenly come back to life—and it involves the long-held mystery of Will's birth and parentage. Now these two dauntless investigators will each need to face down demons from the past if they are to prevent an even greater terror from being unleashed.
Karin Slaughter has sold more than 30 million copies of her books, is published in 32 languages and regularly tops the best-selling lists in numerous countries. Criminal is part of the Will Trent series which takes place in Atlanta and features GBI special agent Will Trent, his partner Faith Mitchell and Angie Polaski.
Reading
Tues, September 9, 2014 | 7:30pm

Off-Site
Please note the venue: Berliner Kriminal Theater | Palisadenstr. 48 | Friedrichshain (U-Bhf. Weberwiese, U5) | www.kriminaltheater.de
Dietmar Wunder reads from the German translation Bittere Wunden.
Moderated by Regula Venske
English Theatre Berlin | International Performing Arts Center in cooperation with the U.S. Embassy and Random House