THE US EMBASSY LITERATURE SERIES:
Jonathan Lethem reads from his novel Dissident Gardens (Der Garten der Dissidenten, Klett Cotta Verlag, 2014)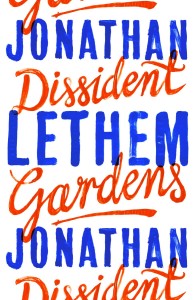 Two extraordinary women: Rose Zimmer, the aptly nicknamed Red Queen of Sunnyside, Queens, is an unreconstructed Communist who savages neighbors, family, and political comrades with the ferocity of her personality and the absolutism of her beliefs. Her precocious and willful daughter, Miriam, equally passionate in her activism, flees Rose's influence to embrace the dawning counterculture of Greenwich Village.
These women cast spells over the men in their lives: Rose's aristocratic German Jewish husband, Albert; her cousin, the feckless chess hustler Lenny Angrush; Cicero Lookins, the brilliant son of her black cop lover; Miriam's (slightly fraudulent) Irish folksinging husband, Tommy Gogan; their bewildered son, Sergius. Flawed and idealistic, Lethem's characters struggle to inhabit the utopian dream in an America where radicalism is viewed with bemusement, hostility, or indifference.
As the decades pass—from the parlor communism of the '30s, McCarthyism, the civil rights movement, ragged '70s communes, the romanticization of the Sandinistas, up to the Occupy movement of the moment—we come to understand through Lethem's extraordinarily vivid storytelling that the personal may be political, but the political, even more so, is personal.
"Lethem has written a brilliant, funny, compendious novel at whose heart lies a sharp, slim blade of thought and style. It is the quality of his perception, his empathy, that makes this material new: that sharpness is the sharpness of a mind at work, re-radicalising a radical era with notions both literary and political that are outside itself."  Rachel Cusk in The Guardian
Jonathan Lethem was born in Brooklyn, New York, went to Bennington College, Vermont, lived in San Francisco, moved back to New York in 1994 where he still lives. Dissident Gardens is his ninth novel. Amongst many other awards he won the National Book Critics Circle Award 1999 for Motherless Brooklyn. Jonathan Lethem is currently a fellow at the American Academy in Berlin.
Photo: John Lucas
Reading
Sun, April 13, 2014 | 8pm

Main Stage
Moderator: Barbara Wahlster (Deutschlandradio Kultur)
English Theatre Berlin in cooperation with the US Embassy, Klett Cotta Verlag and the American Academy