by Matthew Earnest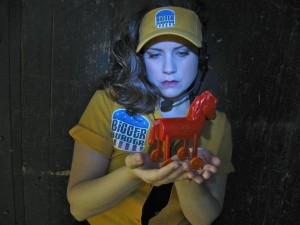 "Hi, I'm Ca$$ie, standard-bearer of the apocalypse! May I take your order?"
Inspired by Cassandra, the shrill prophet of doom from Greek mythology, Matthew Earnest's piece features Ca$$ie – head cheerleader, homecoming queen, and soon-to-be-named valedictorian of Troy High School – doing community service hours in a fast food drive-thru. Ca$$ie is on probation for driving drunk after last week's homecoming game, and ever since the resulting car accident that injured most of her friends and put her brother Hector in a coma, Ca$$ie has been having "the freakiest dreams," horrifying visions about the end of the world. The most persistent one, about a tall horse at the gate, is especially annoying, and all Ca$$ie really wants is sleep.
"Somebody please just pour gasoline on my life and strike a match."
Impervious to her nightmares, Ca$$ie files her nails, plays war games on her phone, calls her friends and takes orders at the cell-like window of the drive-thru. She has no idea that this night will be her last. After a series of economic meltdowns, brazen displays of breathtaking greed and corruption, and massive cuts in education to fund imperialistic wars, her formerly great nation is vulnerable and ill equipped for the modern world. Armageddon is encroaching just outside. The riots and looting have already begun. Great cities are in flames from coast to coast. The bankers and congressmen are already tanning on the beaches of Caribbean resort communities. And this is where it all ends: with a spoiled, oblivious teenager in a disposable building.
Performance
Tues, March 20, 2012 | 8pm

Studio
with 4 additional performances until March 24, 2012
Performed by Nicole Perrone
Written and directed by Matthew Earnest
Produced by The Lunar Stratagem (Huntington, West Virginia, USA)
Production design by William Bezek
Sound design by James Kosmatka
Stage manager: Shelby Brewster
"Hi, ich bin Ca$$ie, Fahnenträger der Apokalypse, darf ich ihre Bestellung entgegen nehmen?"
Ca$$ie, Ober-Cheerleader, Homecoming Queen beim Abschlussball und bald auch Jahrgangsbeste der Troy High School, leistet ihre Sozialstunden in einem Fast Food Drive In ab, ist die gute Ca$$ie doch auf Bewährung draußen. Nach dem letzten Heimspiel hat sie im Suff ihren halben Freundeskreis krankenhausreif und ihren Bruder Hector ins Koma gefahren. Seither wird sie von Alpträumen geplagt, allerdings nicht irgendwelchen – sie hat Visionen vom Ende der Welt! Besonders plagt sie der eine Traum, der mit dem riesigen Pferd vorne am Eingangstor … Dabei will Ca$$ie nur in Ruhe schlafen können.
"Könnte bitte jemand mein Leben mit Benzin übergießen und anzünden?"
Aber Ca$$ie macht, was sie immer macht – Nägel feilen, Handy spielen, mit ihren Freundinnen telefonieren und natürlich die Fast Food-Bestellungen entgegen nehmen. Sie hat keine Ahnung, dass dies ihre letzte Nacht sein wird.
Nach einer Reihe von wirtschaftlichen Zusammenbrüchen, Auswüchsen von Gier und Korruption und riesigen Einschnitten im Bildungsetat zur Finanzierung imperialistischer Kriege ist ihr ehemals so großartiges Land verwundbar geworden und schlecht gerüstet für die moderne Welt. Langsam aber sicher schleicht sich der Weltuntergang ein. Schon gibt es Krawalle und Plünderungen, ganze Städte stehen in Flammen. Banker und Politiker allerdings bräunen sich schon an den Stränden der Karibik. Und so endet alles – mit einem verzogenen, ahnungslosen Teenager in einem heruntergekommenen Gebäude.
                    "Hi, ich bin Ca$$ie, Fahnenträger der Apokalypse, darf ich ihre Bestellung entgegen nehmen?"