In a world where everything is reversed and objects come to life while the human beings are subservient to them, a writer becomes part of the story that he is writing.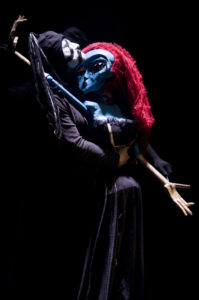 He falls in love with the leading lady of his fairy tale, threatened by his own story creatures, and in the end redeems them and is himself redeemed.
Dirty Granny Tales is an acoustic ensemble that narrates atmospheric stories. Their shows include puppet theater, dance performance and video animation projection, all of which, accompanied by the music, bring the story to life.
Influenced by the atmospheric fairy tales of Tim Burton and Guillermo Del Toro, the melodies of Danny Elfman, the irony of Tiger Lillies, The Residents' sterile landscape, Japanese Gothic theater and Butoh choreography, Dirty Granny Tales transports us to a magical dark world in their own extraordinary way.
Dirty Granny Tales are:
Stavros Mitropoulos (Mouldbreath): Vocals, Guitar, Mandolin
Thanos Mitropoulos (Wormeaten Vagus): Bass, Blockflute, Backing Vocals
Dalai Theofilopoulou (Slimeskin): Cello, Backing Vocals
Uli Muehe (Heartbeat Zero): Percussion, Backing Vocals
Anna Athanasiou and Katerina Liana: Dance, Puppets
Concert, Performance, Puppet Theater
Thurs, July 7, 2016 | 8pm

Main Stage

with 2 additional performances until Jul 9th
Tickets 14€ (8€ students)