A performance trip through the glorious ups and the dramatic downs of a Hollywood life
Bette Davis was one of Hollywood's greatest stars. Between 1931 and 1989, she acted in more than a hundred films, won the Oscar twice and was nominated another eight times. Some of the greatest movies in motion picture history – Of Human Bondage, Jezebel, What Ever Happened to Baby Jane?, or All About Eve – are Bette Davis films. She was uncompromising, fought for better scripts, had no qualms about playing antagonistic characters and always wanted to be authentic. Davis was a living example that you can have a career and stay true to yourself – if you're prepared to pay the price of loneliness. A life worthy of a movie.
"Bettina Lohmeyer as Bette Davis in 'Fasten Your Seatbelts' ignites into originality and pure entertainment. An evening of blazing theatrical fireworks. Brilliant – it soars!" Joe Franklin, Bloomberg Radio, New York City, 2014
In six scenes, Bette Davis…"Fasten Your Seatbelts!" highlights a life full of triumph and successes, love, tragedies and confrontations. Bettina Lohmeyer takes the audience to a duel with movie mogul Jack Warner in his office, to a cemetery in Maine, to a lonely home, back to shooting on set in Los Angeles, to the Oscar ceremony and finally to the last chapter in Bette Davis' life…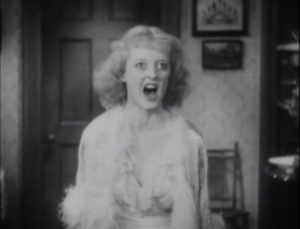 A dream comes true: upon the invitation of U.S. director and producer Susan Batson, Bettina Lohmeyer developed, wrote and performed her play "Bette Davis… "Fasten Your Seatbelts!" in Batson's studio theater in New York. After intense research, including interviews with Bette Davis' contemporaries, Bettina Lohmeyer staged the Davis myth: hard as nails, quick-witted, assertive and just as uncompromising, vulnerable and full of humor.
Bettina Lohmeyer was an ensemble member at Maxim Gorki Theater for six years and also worked at Schauspielhaus Hannover, Staatstheater Mainz, and Schauspielhaus Graz. She has acted in numerous film and television productions, such as Der letzte Zeuge, SOKO Leipzig, Der Baader Meinhof-Komplex and in a continuous starring role in Hinter Gittern.
Pics: Barbara Braun | Film still: Bette Davis in Of Human Bondage (1934)
Play
Fri, February 16, 2018 | 8pm

Main Stage

with 2 additional performances until Feb 18th
Tickets 15€ (9€ students)
Written, designed and performed by Bettina Lohmeyer
Sound and Lighting Design by Marco Uhlmann
Supervision by Susan Batson
In collaboration with Theaterhaus Berlin Mitte