A JOURNEY OF DISCOVERY
This format opens the festival and is dedicated to newcomers, shorter performances and work-in-progress. Spend an entire afternoon taking in seven different performances. In between the performances, you can enjoy fantastic food, luxurious libations and magnificent music by international, Berlin-based musicians. Performances start at 2pm and we open our doors at 1pm.
BRUNCH LADY by Katie-Rose Spence (Australia), Costume Design by Rachel Nielson (USA)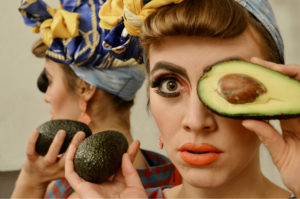 An interactive solo clown act pondering (whilst sipping a mimosa) the pressures of keeping up appearances.
"Forgoing avo on toast for brunch once a week and you'll save for your deposit in … 175 years! …. " Brigid Delaney.
We parade about with delusions of grandeur, in a climate where we are willing to overlook the cost, both personal and societal, for the appearance of having everything now. It's official, brunch has been condemned as an extravagant excess, but here we are happily munching away our hangover on Sunday morning anyway, unable to afford our lives, but content in our denial.
Until today.
Brunch Lady will ensure your late morning meal will never be quite the same again…pray it wasn't you who ordered the avocado on toast.
DANCING WITH THE SHADOWS by Julia Vandehof (Austria), Niall Fallon (UK), Ainhoa Hevia Uria (Spain), Angharrad Matthews (UK) and Berta del Ben (Italy)
The performance is a descent into the realm of mythical ghosts and phantoms inspired by the story of Persephone. The unexplored shadows hidden within this narrative are shown through non-linear storytelling.
The audience will be taken into the House of Hades with Persephone, the Queen of the Dead. The story alludes to the cyclical nature of life-death and to resurrection, and to question what it means to embrace death-in-life. It is a deeply atmospheric world encountered through movement, sound and light.
GRUESOME MANIFESTO by Cher Nobyl/Catalin Jugravu (Romania), with Andrei Raicu (Romania), Syrtha (Lithuania) and Yasmin Keany (Australia)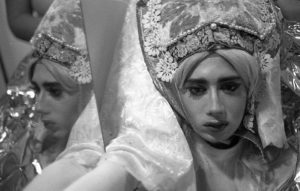 An alternative drag performance conceived as a spiritual leap into the metaphysical space where subjects such as a dystopian existence, the present time and the ratio of cause to effect in wars worldwide are molded through spoken word, dance and video projection into arguments which favor the total nuclear destruction of humanity as Salvation.
It's total demagogy disguised in holy garments under the shape of none other than Cher Nobyl, The High Priestess of our Atomic Rebirth
INTEGRATE 'ER by Iva Topolovec (Croatia) and Salber Williams (Portugal/Zimbabwe)
Two women. A bonfire of baggage. This performance is a broken experiment of identity and compromise. Using bodies and household items, we reach for ways to integ- …scratch that. What is integration, anyway?
THE HEARING TEST by Shanti Suki Osman (UK/Germany)

This is an interactive sound performance which asks the audience to scrutinize habits in their auditory perception.
Upon entering the room they hear a continuous set of instructions prompting them to interact with the objects in the room: choose an object that best describes my voice; write a postcard to a person who would like this sound.
Playing with the ideas of privilege, prejudice and positioning, this piece is very simple in its demand for a critical ear to be turned towards ourselves, in the hope to excavate what lies behind our tendencies and tastes.
THE LIVING AND OUR GHOSTS by Noirphiles/Adrian Marie Blount (USA)
Film, music, song and dance are used to bear witness to the marginalization of LGBTQIA people of color. How can we be witnesses for the marginalized?
How do the ancestors guide us to become witnesses? What can be learned in listening to those who exist within the margins of the past present and future?
This piece holds space for those spaces of uncertainty, ugly, undefined and intangible.
WE CAN DO IT MOANING by ABA NAIA Collective, directed by Kysy Fischer (Brazil), performed by Rafuska Marks (Brazil) and Teija Vaittinen (Finland)
 This is a performance of breathing and sound.
Different actions of moaning are created by three women for a construction of a human moan-machine, a text, a dialog or a song. But we are specific: we produce a symphony of moaning.
We treat the moan as a matter. As physics. As anthropology. Not as biology. We moan as a sport. We moan as an acoustic experience. We moan in hysteria. Hysteria?
We moan because someone has commanded us to moan. We moan because we can. We moan because it is ABSOLUTELY NECESSARY. We moan because it moves us and we keep moving just because we moan.
Sun, April 22, 2018 | 2pm

Main Stage + Studio + Foyer
Tickets 15 € (9 € students)