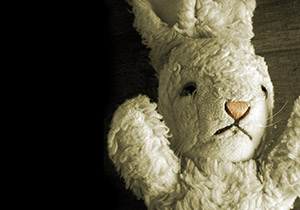 No rehearsals. No director. No set. A different performer reads the script cold for the first time at each performance. Will you participate? Will you be manipulated? Will you listen? Will you really listen?
Forbidden to leave his country for refusing military duty as a conscientious objector, playwright Nassim Soleimanpour distilled the experience of an entire generation in a wild, utterly original play from Iran.  He was unable to experience the success celebrated by White Rabbit, Red Rabbit around the world until the beginning of 2013 in Australia. Having been retroactively discharged from service, Soleimanpour finally was able to receive a passport.
White Rabbit, Red Rabbit is a work about contemporary Iran, and of Nassim's generation: the generation born during the incredible hardship of the Iran-Iraq war now in their late 20s and early 30s. A generation that has never known an Iran other than the Islamic Republic, yet a generation that is computer literate, and well‐informed. The art they are making is worthy of notice.
White Rabbit, Red Rabbit is a unique theater experience and has been celebrated worldwide as one of the most astonishing evenings in a theater where both audience and performer as a whole create a performance about the ties and tensions between freedom and conformity.
"The playwright slyly examines the desire to submit to authority and the ways in which that impulse can be exploited by the clever and the charismatic. Soleimanpour, who was 29 when he wrote the play, translates these dark and disturbing themes into an outrageous parable involving vials of poison, rabbits and cheetahs, oh my. It's an intoxicating stream of consciousness from the heart of Iran that will leave you at once amused and alarmed." San Jose Mercury News
"There´s a magnetic mind behind the prose. Rabbit is a lightly comic, deceptively discursive, meta-theatrical monologue that – without, I hope, giving too much away –  raises provocative questions about the nature of theater, social responsibility, personal freedoms, suicide and the limits of obedience." San Francisco Chronicle
White Rabbit, Red Rabbit has been performed in Edinburgh, Toronto, Dublin, Oslo, Glasgow, Oldenburg, San Franscisco, Brighton, Vancouver, New Haven (Connecticut), Amsterdam, Athens, Calgary, London, Montreal, Düsseldorf  by performers such as Tim Crouch, Lucy Ellinson, Edgar Selge, David Greig, Sandy Grierson, John von Düffel, Guy Masterson, Imogen Kogge, Adura Onashile, Annie Ryan, Juliet Stevenson, Chris Thorpe, Janet Suzman, Pip Utton, Anna Thalbach, Chris Kondek, Gregor Weber and many others.
NOW FOR THE FIRST TIME IN BERLIN !
Performance, Play
Thurs, October 24, 2013 | 8pm

Main Stage

with 4 additional performances until Nov 1st
White Rabbit, Red Rabbit will feature a different performer every night:
ARIEL NIL LEVY (Performer, Israel)
on October 24,
JACALYN CARLEY (Choreographer, Co-Founder of Tanzfabrik Berlin, Novelist, USA) on October 25,
SEAN PATTEN (Gob Squad, UK)
on October 26,
CARRIE GETMAN (Actor, USA)
on October 31 and
SEUMAS SARGENT (Blue Man Group, USA)
on November 1.
A co-production of English Theatre Berlin and Aurora Nova
Originally produced by Volcano Theatre (Toronto) in association with Necessary Angel and Wolfgang Hoffmann.
Dramaturgy by Daniel Brooks and Ross Manson