The performance deals with the critical voice inside your own mind. That annoying one that doesn't seem to go away no matter how hard you try. Questioning who is the voice inside your head and are you listening? It's also about my mother but that's a long story so we can save that for later.
A solo piece using text, movement and audio with gentle audience participation.
Followed by a post-performance discussion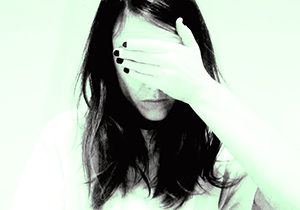 Lauren Hart was born in Sheffield, England in 1985. She graduated in 2007 from Central School of Speech and Drama School in London where she trained as a performer. Since graduating she has worked professionally in the independent theater community around Europe performing her own work and collaborating with directors, choreographers (Willi Dorner, Anu Almagro, Andrew Loretto, Neil Bettles and Sarah Duffy) and theater companies (You Me and Bum Bum Train, The Other Way Works and Nodding Dog). She has performed at various venues in the UK (The Crucible, Camden People's Theatre, Theatre Delicatessen, Arnolfini, Bank Street Arts and Live Art Bistro) and in various site-specific locations throughout Europe. She has performed in the UK, Greece, Norway, Germany and Finland.
She moved to Berlin in 2015 and works as a freelance theater maker and performer. Since arriving in Berlin she has collaborated with Fang Lu on her video art project Ex Lovers and she has performed her one-to-one performance This is Mine. What's Yours? in the 2016 Expat Expo | Immigrant Invasion Festival at English Theatre Berlin | International Performing Art Center and Theaterhaus Berlin Mitte. Wrought-Sheffield (one-to-one performance Festival, UK) commissioned her to develop and perform a new cross cultural performance I'm not (t)here anymore which uses Skype video call to connect the UK and Germany. The performance was shown as part of the festival in April 2016 in both Berlin and Sheffield.
In September 2016 she was invited to perform This is Mine. What's Yours? at the Pori Theater Festival in Finland. Follow a collaboration with German artist Dara Friedman, the video poetry project featuring one of her poems will be shown at the gallery Supportico Lopez in spring 2017.
Performance
Thurs, January 12, 2017 | 8pm

Main Stage
Tickets €8
Devised and performed by Lauren Hart