Get ready for an evening of music in the theater! Following the success of last year's event, we are very pleased to invite you to once again enter the world of songs through the lenses of two Berlin-based singer-songwriters. Viktor's Joy and Alex Spencer will share new material from their own songbooks and invite special guests to join them on stage.
Vikor's Joy sings about life. With precise observations about people, neighborhoods, bus journeys or other people's concerts, Viktor's Joy takes you and shows you exactly how his interior and exterior world looks. Like being drawn into a painting or a good book, the listener never wants the songs to end. With tear-jerkingly beautiful plucked guitar and a voice steady and low, each feels like a masterpiece.
Alex Spencer is fresh out of the studio from recording her second album. With a conscious move towards her roots in jazz music, she has teamed up with one of the hottest trios in town: Ben Lehmann (double bass), Martial Frenzel (drums) and Paul Engelmann (alto sax). Drawing inspiration from such diverse subject matters as insects, painters or parenting, the songs themselves defy categorization, sometimes jazzy, other times more folk, sometimes tipping over into pop. Each of them sung with a voice strong enough to transport the whole auditorium.
Listen to Viktor's Joy on Bandcamp and visit his artist page on Facebook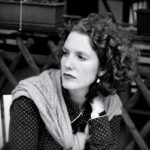 Listen to Alex Spencer on SoundCloud and visit her artist page on Facebook