by Tennessee Williams
Two River County, a small town in the deep south of the USA, where death, sex and disaster are the topics of everyday gossip, where bigotry and racism are boiling very close to the surface. Here they all sit: Jabe, the dying patriarch and his frustrated wife, Lady; Beulah and Dolly, the town gossips; Carol, the black sheep of the town's richest family.
And then, in walks Snakeskin Val Xavier, a travelling musician from New Orleans, bringing life into a house where death seems to be the master and everyone seems to have lost hope and resigned themselves to their fate.
Orpheus Descending  could be Val´s story – the story of an outsider, a sensitive artist, a rebel without a cause, who stirs up volatile hostilities because of the passionate responses he inadvertently calls up in the more courageous and thirsty female citizens of a dried up town. But it is actually the story of Lady, a woman who finds hope and starts believing in herself again, who finally comes to full bloom, a wild orchid without a chance in a rotting society.
Lady Torrance is another one of Tennessee Williams´ arsenal of impressive female characters such as Blanche Dubois from A Streetcar Named Desire, or Maggie from Cat on a Hot Tin Roof, or Serafina delle Rose from The Rose Tatoo – women who heroically attempt to make a change in a male-dominated society and inevitably fail because the time is not ripe for them, yet.
Throughout his life Tennessee Williams was fascinated by the outsider, the free individual, namely the artist that was able to avoid what he called `the corrupted society´. In Orpheus Descending he connected the character of the American outsider with the mythological figure of Orpheus, singer and musician who descends into the underworld in an attempt to rescue his wife Eurydice after she has been bitten by a snake and abducted by Pluto, god of the underworld. His music so charms the guardians of Hades that Eurydice's return is promised him on the condition that he not look back at her as she follows him out of the underworld. But Orpheus disobeys and by looking back loses Eurydice to the underworld.
Orpheus Descending was a project that Tennessee Williams worked on for over half his life and presented it in several different versions over a span of 20 years. As early as 1937 when he was 26 years old he wrote a version called Fugitive Kind for an amateur theatre company in St. Louis. Three years later the second try, entitled Battle of Angels, became Williams´ first professionally produced play, starring Hollywood legend Miriam Hopkins as Lady Torrance (who in this version was called Myra). All the characters and conflicts were already there although Battle of Angels didn't have the sharpness, the elegance and the mythological references that 17 years later made Orpheus Descending a Broadway hit starring Cliff Robertson and Maureen Stapleton. Another three years later Williams´ again rewrote the project for the film version, The Fugitive Kind, with Anna Magnani and Marlon Brando, directed by Sidney Lumet.
"Man lässt sich gebannt von der düster-knisternden Atmosphäre einfangen…. und kann sich nicht satt sehen an den eindrucksvoll gezeichneten Charakteren." (BERLINER MORGENPOST / January 14th, 2009)
Play
Mon, July 7, 2008 | 8pm

Main Stage
with additional fifteen performances until January 25 2009
with
Priscilla Be as Lady Torrance
Robert Lyons as Val Xavier
Samantha Coughlan as Carol Cutrere
Sabrina Ellenberger as Beulah
Erik Hansen as Jabe Torrance
Harvey Friedman as David Cutrere / Deputy Sheriff / Mr Dubinsky
Karen Cifarelli as Dolly (2nd run) / Corinne Prochaska as Dolly (1st run)
Rita Grote as Nurse Porter
Directed by Günther Grosser
Set and Costumes: Tomas Fitzpatrick & Roland Ascheid
Lighting: Fred Pommerehn
Sound: Ralf Arndt
Stage Management / Directing Assistanec: Jasna Miletic
with permission by the University of the South, Sewanee, Tennessee.
Text auf deutsch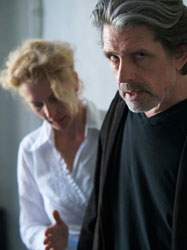 Two River County im tiefsten Süden der USA, wo Sex, Tod und Desaster Tagesthemen sind, wo Bigotterie, Rassismus und Clandenken den Alltag bestimmen – hier sind sie alle beisammen: Jabe, der alte sterbende Patriarch; Lady, seine frustrierte Ehefrau; Beulah und Dolly, die ewig schwatzenden Nachbarinnen; Carol, die verwöhnte Tochter aus gutem Haus mit Hang zur Rebellion.
Dann kommt Snakeskin Val Xavier zur Tür herein, Gitarrist aus New Orleans, der mit Achsenbruch liegengeblieben ist und Leben in eine Bude bringt, wo der Tod schon das Heft in der Hand hat und niemand mehr mit dem gerechnet hat, was jetzt kommt…
ORPHEUS DESCENDING könnte die Geschichte sein von Val, dem Outsider, dem Künstler, dem stillen Rebellen, der die verknöcherte Gesellschaft gegen sich aufbringt, weil er ihre sensiblen Mitglieder auf komische Ideen bringt. Aber es ist vor allem die Geschichte von Lady, die noch einmal an sich glaubt, die noch einmal aufblüht – eine wilde Orchidee, die in den Baumwollfeldern keine Chance hat…
Lady ist eine jener großen Frauenfiguren wie Blanche Dubois in A STREETCAR NAMED DESIRE (Endstation Sehnsucht), Maggie in CAT ON A HOT TIN ROOF (Die Katze auf dem heißen Blechdach) oder Serafina delle Rose in THE ROSE TATTOO (Die tätowierte Rose) , für die Tennessee Williams berühmt wurde: Frauen die einer Männerwelt trotzen, Dinge in die Hand nehmen und alles verändern, oder Frauen, die im Überschwang ihrer Gefühle an der knochenharten Männerwelt zerbrechen – oder Frauen wie Lady, die einen heroischen Versuch unternehmen und dabei an einer Gesellschaft scheitern, die noch nicht reif ist für die unabhängige Frau.
Die Figur des einsamen Outsiders hat Williams immer  wieder fasziniert, und er hat ihn in diesem Stück an den zentralen Künstler-Mythos um Orpheus, der mit seiner Musik die Unterwelt betört und schließlich von den Mänaden zerrissen wird,  herangeführt – und auch wenn die legendären `Rebels Without a Cause´  längst als schale Mythen eines lange zurückliegenden jugendlichen Aufbruchs Amerikas versilbert werden, so bleibt der virulente Kern dieses Mythos unangetastet: das freie Individuum gegen die starre Gesellschaft, seine Ansteckungsgefahr, seine Attraktivität, sein unausweichliches Schicksal.
ORPHEUS DESCENDING (Orpheus steigt herab) war Tennessee Williams´ jahrzehntelang gehegtes, großes Lebensprojekt. Schon 1937, mit 26 Jahren, legte er eine erste Fassung mit dem Titel FUGITIVE KIND vor; 1940 wurde BATTLE OF ANGELS, in dem das gesamte Personal bereits vollständig vorliegt, zu Williams´ erstem professionell produzierten Stück. Siebzehn Jahre später hatte ORPHEUS DESCENDING am Broadway Premiere, und schließlich nahm er 1960 die Geschichte von Val und Lady noch einmal für das Drehbuch zu Sidney Lumets Filmversion THE FUGITIVE KIND (Der Mann mit der Schlangenhaut) mit Anna Magnani und Marlon Brando wieder auf.
"Nichts bedeutet mehr als die Erinnerung an die Gefühlswelt der eigenen Jugend, und ORPHEUS DESCENDING hat sehr viel davon. Auf den ersten Blick ist es ein Stück über einen wilden Kerl, der in einer ganz gewöhnlichen Kleinstadt im Süden auftaucht und Aufregung verursacht wie ein Fuchs im Hühnerstall. Unterhalb dieser allzu bekannten Oberfläche steckt jedoch ein Stück über unbeantwortete Fragen, die die Herzen der Leute umtreiben, und über den Unterschied zwischen denen, die weiterfragen, und denen, die mit vorgefertigten Antworten zufrieden sind, die aber eigentlich gar keine Antworten sind, sondern zweckmäßige Anpassung oder Verlegenheitslösungen."
Tennessee Williams, 1957